"Common Delusion" (下世話な妄想, Gesewana Mōsō) is a short story from Gamers' store privilege for the second volume of You-Zitsu light novel series, together with two more short stories.
After checking the weather for tomorrow at his computer, Kiyotaka stood up and was called by Kanji via phone. The latter stated that he's worried about not being able to choose his dessert for that night, to which the former ask that the call is unusually trivial for someone who rarely calls. Kiyotaka then asked Kanji if he had properly eaten his dinner already -- the dorm's dining hall closes at 9 PM, after all, and the only option would be the convenience store.
However, Kanji immediately retorted that it's not that kind of dessert that he's craving for, but rather, a dessert that all men desire. Kiyotaka was a little bit puzzled and confused about the matter because it is unthinkable that there is some kind of dessert that tastes differently between genders. For Kanji to call Kiyotaka a "boring" man, hurt the latter the most and took the criticism to the heart. To clarify what this "dessert" was, the former commanded the latter to look at the chat window of the Internet phone call program provided by the Advanced Nurturing High School for local residents. After accessing the contents of "strangely large URL", though hesitantly, Kiyotaka recognized a familiar face on the screen.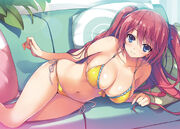 What appeared was the picture of their classmate, Airi Sakura wearing a swimsuit. T'was hard to believe for Kiyotaka that someone at the same age would possess a body with such a well-developed chest and a slender waist. And to add, this particular photo was taken during the last year of Airi's middle school phase. To both gentlemen, it is unbelievable -- that even an average high school student figure would pale in comparison to hers.
At this moment, Kiyotaka finally understood what kind of dessert was Kanji referring to. Airi is a magazine idol and there's a lot of photos of her to choose from as a material for all kinds of delusions, after all. However, to Kiyotaka, this type of delusion, or rather emotion, can't be defined by a mere logic. Feeling happy when you're in the same class with a cute girl, and being able to meet her is a foreign emotion to Kiyotaka -- it can't be traced anywhere in his heart
Though Kiyotaka understands why Ike would be staring alone at the picture in high spirits, he still wondered what would Airi think if she knew she was being treated as a dessert. Surely, she wouldn't dismiss such idea that easily. But nevertheless, Kiyotaka, in the end, saved the picture and archived it inside a folder without letting the other know about his action.
Community content is available under
CC-BY-SA
unless otherwise noted.